This election did not turn out as millions had hoped. However, the results are as God knew they would be. While I may not understand why, I take solace in trusting that God does. The final count surprised many, but God, my Father, is never surprised. The fact that he allowed this candidate to win means He has a purpose that is yet to be revealed.
As I sat and reflected on the outcome, the Lord brought a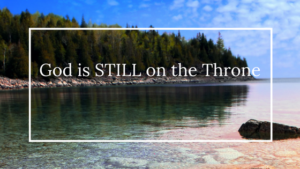 few Scriptures to mind:
Psalm 33:11-14 (NASB)
11 the counsel of the LORD stands forever, the plans of His heart from generation to generation. 12 Blessed is the nation whose God is the LORD, The people whom He has chosen for His own inheritance. 13 The LORD looks from heaven; He sees all the sons of men; 14 From His dwelling place He looks out on all the inhabitants of the earth. . .
Psalm 34:7-8 (NASB)
7 the angel of the LORD encamps around those who fear Him and rescues them.
8 O taste and see that the LORD is good; how blessed is the man who takes refuge in Him!
James 1:19-20 (NLT)
19 understand this, my dear brothers and sisters: You must all be quick to listen, slow to speak, and slow to get angry. 20 Human anger does not produce the righteousness God desires.
So what does it all mean? It Means:
We must accept what God allows.
The Most High, Sovereign God has not left His throne no matter who ascends to the White House.
We must listen and hear while being slow to speak and get angry.
We cannot mock our leader privately or publicly, lest we grieve the Holy Spirit.
The Lord IS with us. We need only take refuge in Him.
We must pray for our new leader and those who would give him counsel.
What Happens Next?
I am convinced that God will get the glory and His will concerning this nation shall be done. This election is not about the current President-elect. It is about us as a people. The Lord now has our collective attention. How we move forward as people of God will say more about us than about the next president. Do we trust God? Do we believe that even in this, God's will was done and God's hand is still with us?
Now is the time to pray and seek God's face like never before.
Will the remnant arise? Will the intercessors awake? Will the watchman get back on the wall? The future of our nation depends on it.